DOT & non-DOT Drug and Alcohol Services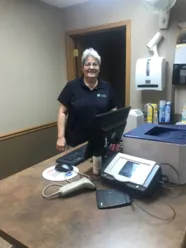 Occupational Health Services has been providing DOT and non-DOT Drug and Alcohol services since 1996. These services are constantly evolving, as the testing requirements are always changing. Collections are done for companies that range from 1 employee to over 300 employees. We have 4 certified DOT collectors for both drug and alcohol.

The Occupational Health Services can provide random screening generation for your employees, whether they are DOT or non-DOT employees. If you need help in formulating a drug and alcohol policy Occupational Health Services can assist you with this as well.
Suzanne schedules all drug & breath alcohol screenings. She assists local companies by coordinating their drug and alcohol collections. Contact Suzanne by phone or email with any questions or to schedule screenings OccupationalServices@Chirobygreene.com.