Pre-Employment Examination / (PCP) Physical Capacity Profile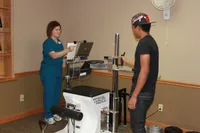 Pre-employment examinations are done at the clinic for many industrial and agricultural companies . Pre-employment examinations help employers evaluate the potential employee's physical abilities. This test helps fit the employee to the right job based on their physical capacities. This testing is used across the United States and meets ADA requirements. If you are unsure of how much your employee's lift each day Dr. Greene will visit the job site to measure each job task/description.
Visit http://www.pcpworks.com to learn more about the testing process.
DOT & non-DOT Drug and Alcohol Services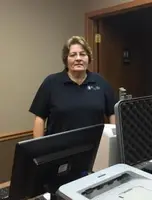 Occupational Health Services has been providing DOT and non-DOT Drug and Alcohol services since 1996. These services are constantly evolving, as the testing requirements are always changing. Our office is currently providing on-site collection as well as at the clinic. Collections are done for companies that range from 1 employee to over 300 employees. We have 4 certified DOT collectors for both drug and alcohol.
The Occupational Health Services can provide random screening generation for your employees, whether they are DOT or non-DOT employees. If you need help in formulating a drug and alcohol policy Occupational Health Services can assist you with this as well.
Suzanne schedules all drug & breath alcohol screenings. She assists local companies by coordinating their drug and alcohol collections. Contact Suzanne by phone or email with any questions or to schedule screenings OccupationalServices@Chirobygreene.com.
DOT Medical Card Exams
DOT Medical Examination Report
Department of Transportation medical card exams are required for drivers that hold a CDL license. Any driver driving a commercial vehicle over 10,000 pounds must have this medical card as well. In order to have a valid CDL in Kansas you must have a valid medical card. Most drivers can pass this test and have a valid card for 2 years. Some drivers are limited to a one year license due to physical limitations. Dr. Jerome Greene is certified to give DOT medical card exams. Due to a new law Doctors that are not certified by 2014 cannot perform DOT medical card examinations.
Audiometric Testing
This test can be used to establish a baseline for the employees hearing levels. Many companies have employees tested annually to ensure there is no hearing deficit starting to occur in the employee.
Fingerprinting Services
TWIC Cards, TSA Pre-Check Flight Identification and Hazmat
These services are provided at the clinic on Monday, Tuesday and Wednesday.